The purpose of this committee is to plan, organize, and assist in conducting the AAACN Annual Conference that is consistent with AAACN's mission, strategic plan, and to meet the education needs of members and colleagues.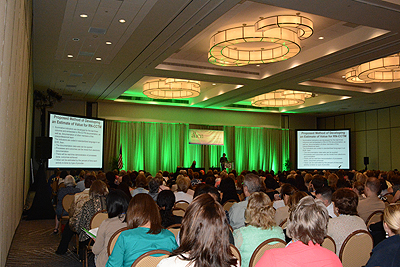 The Education Director assists in all aspects of conference planning and assists in implementation as needed.
The main purpose of the committee is to review oral and poster abstracts submitted to select qualified presenters to speak (or present a poster) on desired topics at the conference.
Monthly conference calls, and email correspondence is estimated to take 1 hour per week during Conference Planning (September - November).
During Conference Planning, committee members will spend will spend additional time reviewing oral and poster abstracts, selecting and confirming presenters, and participating on additional conference calls. Time commitment during "peak" conference planning times is two hours per week.
The Conference Manager plans the logistics of the meeting site and participates in implementation of conference activities. Marketing of the conference, all activities related to registering attendees and preparation of all materials are done by the national office.
---
Chairperson
Committee Members
(Past Chair)
Nena M. Bonuel, PhD, RN, CCRN-E, CNS, ACNS-BC
NBonuel@sbcglobal.net
Linda Perkins, MSN, RN
Maureen Sims, MBA, BSN, RN, NE-BC
Maureen.Sims@nationwidechildrens.org
Sadiat Toyin Lawal, MSN, RN, CCCTM
tlawal@mednet.ucla.edu
Diana Harmon, MSN, MHA, RN, CCCTM
diana.harmon@emory.edu
Education Director
Education Coordinator
Kristina Moran
800-262-6877, press 8 when you hear the recording
856-256-2358
856-589-7463 (fax)
kristina.moran@ajj.com
Please call 800-262-6877, ext. 8 if you wish to reach a member of the Program Planning Committee by phone.