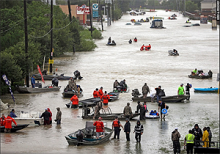 AAACN extends its thoughts and prayers to our members and all who are affected by the catastrophic effects of this devastating hurricane season.
Find out how you can help...
American Nurses Foundation - The 'Disaster Relief' Fund supports nurses in their disaster response and recovery in southeastern Texas, the Virgin Islands, Florida and other affected states. All of the funds raised (100%) goes directly to charities involved in relief efforts.
Deploy with the American Red Cross - The Red Cross is seeking health care professionals to assist in affected areas.
Donate to the American Red Crosss - All donations are tax deductible.
AAACN thanks you for your generosity.
---
Photos used on AAACN.org homepage and shown above by David J. Phillip / AP