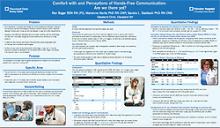 AAACN is pleased to announce the Call for Poster Abstracts for our Annual Conference for 2018, in Lake Buena Vista, FL.
Abstracts that reflect innovative, research-based, or new practice information have the highest possibility for selection as a presentation at the conference.
Submit your poster abstracts by December 15, 2017 by 4:00 pm Eastern US. If you're planning to submit a poster abstract, be sure to review the new abstract submission guide, which will likely answer most questions you may have.

View the Call for Poster Abstracts Submission Guide.

Visit the online AAACN Abstract Management System to register and submit your poster for review.
---
Check out the Annual Conference for 2018 information hub