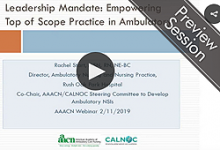 A recording of the webinar, Emerging Trends in Ambulatory Magnet Application, recently hosted by the Leadership SIG, is now available in the AAACN Online Library.
This recording is free to AAACN members, $20 Standard.
This presentation reviews the current ambulatory care nursing climate, describes the ANCC Magnet model and program as well as gives strategies to achieve the elements required for ambulatory care nurses within it.
Speakers:
Rachel Start, RN, MSN, NE-BC, Director, Ambulatory Nursing and Nursing Practice, Rush Oak Park Hospital
M. Maureen Lal, MSN, RN, Assistant Director of the American Nurses Credentialing Center's Magnet Recognition Program®