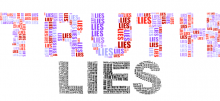 There's no shortage of penalties for falsification.
When anyone falsifies information about themselves, it is a serious matter, as it is obviously misleading, deceptive and reflects on your trustworthiness.
But it is extremely serious when a nurse does this.
---

About Health Bytes
AAACN Heath Bytes is an informative and helpful listing of hot topics, awareness, and articles that may make your life easier and more enjoyable. The Health Bytes appears in the monthly email newsletter and will also be posted on the AAACN Website.