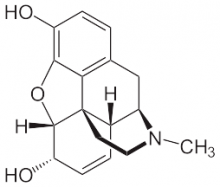 The Nursing Community Coalition (NCC) hosted a briefing on the opioid crisis that is taking a toll on the health, wellness, and lives of Americans and their families.
The briefing titled The Opioids Crisis: Nursing Practices That Save Lives, featured four nursing experts who each offered a different perspective on how the profession is on the front lines of saving patients impacted by opioid addiction.
---
Refrences:
Image information: Chemical structure of morphine, the prototypical opioid.[1]
1. Ogura, Takahiro; Egan, Talmage D. (2013). "Chapter 15 – Opioid Agonists and Antagonists". Pharmacology and physiology for anesthesia : foundations and clinical application. Philadelphia, PA: Elsevier/Saunders. ISBN 978-1-4377-1679-5.
---

About Health Bytes
AAACN Heath Bytes is an informative and helpful listing of hot topics, awareness, and articles that may make your life easier and more enjoyable. The Health Bytes appears in the monthly email newsletter and will also be posted on the AAACN Website.