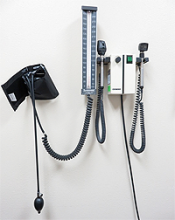 (From AMA Wire) A recent article in The Journal of Clinical Hypertension provides a framework to optimize accurate blood-pressure readings and boost patient adherence to treatment.
It should help physicians enhance management of hypertension, which is defined as a consistent blood pressure reading of 140/90 mm Hg or higher.
The article outlines the "measure accurately, act rapidly and partner with patients" (M.A.P.) approach to hypertension management.
The foundation for the paper is the recognition that primary care physicians cannot do it all. They need to work more effectively with medical assistants, nurses and other members of practice team. Read the full article.
---

About Health Bytes
AAACN Heath Bytes is an informative and helpful listing of hot topics, awareness, and articles that may make your life easier and more enjoyable. The Health Bytes appears in the monthly email newsletter and will also be posted on the AAACN Website.