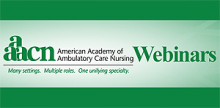 Leadership SIG Webinar: January 29, 2019, 2 pm ET: Emerging Trends in Ambulatory Magnet Application, Presented by Rachel Start
Ambulatory nurses practicing at top of their scope and achieving practice excellence has never been so important as it is now in the current climate of health care transformation, shift in patient volumes, and the diverse needs of populations served in the ambulatory setting.
The ANCC Magnet Recognition program is an evidence-based approach to achieving exemplary patient outcomes, empowerment of nursing, expert practice accountability and enhanced interprofessional collaboration.
As more and more organizations seek to follow and apply for this recognition, both as part of a system and as stand alone ambulatory organizations, strategies for achieving the many requirements are in high demand.
This presentation will review the current ambulatory nursing climate, describe the ANCC Magnet model and program, and provide strategies to achieve the elements required for ambulatory nurses within it.