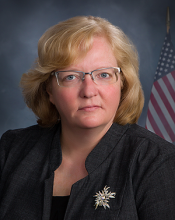 The United States Congress recently recognized longtime AAACN member, Cynthia Murray, by flying an American flag over the U.S. Capitol Building in her honor.
Murray was honored for her service to the veterans of southern NJ through her work as an RN within the Veterans Health Administration (VHA) and for advocating for the expansion of local access to quality medical and behavioral health care, decreasing travel burden, and increasing timelines of care received.
This work also included increased access to Veterans Benefits Administration (VBA) comp and pension appeal hearings by holding hearings within the local VHA Community Based Outpatient Clinic (CBOC) through the first interagency use of virtual tele based platforms, negating travel burdens of great distances to Philadelphia, Washington DC, and/or other locations for the south jersey veteran population.

During the past two years, Murray's advocacy in the prevention of veteran suicide and assistance to families of veteran suicide completions began a national partnership with local communities in shared commitment through the VA's new campaign: Suicide Prevention is Everyone's Business. #BeThere.
View resources for veteran suicide prevention
Murray also received a Certificate of Congressional Recognition in May of 2017 in recognition of her service to veterans (see photo #1 below).
The Capitol Flag Program was instituted in 1937 when a congressman requested an American flag that had flown over the Capitol. The AOC now fulfills more than 100,000 flag requests from members of Congress annually, and the program's popularity continues to grow each year (see photo #2 below).
Cynthia and AAACN
Cynthia has been a member of AAACN for over 10 years. She has contributed to many AAACN publications and resources, including the Core Curriculum for Ambulatory Care Nursing, the Care Coordination and Transition Management (CCTM) Core Curriculum, the Scope and Standards of Practice for Registered Nurses in CCTM, the Scope and Standards of Practice for Ambulatory Care Nursing, the Scope and Standards of Practice for Professional Telehealth Nursing, and the Role of the Registered Nurse in Ambulatory Care Nursing position paper.
Additionally, Murray has served on the Nurse-Sensitive Indicator Task Force, the Legislative Team, and the Nominating Committee, and has been active within multiple Special Interest Groups (SIGs), as was the recipient of the 2015 Above and Beyond Award for her many contributions to AAACN.