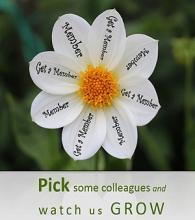 The 2016 Member-Get-a-Member (MGM) campaign was the most successful in AAACN history.
Members smashed last year's record-breaking numbers, with 143 existing members recruiting an incredible 206 new members!
Year-End Prizes:
This year's grand prize, a complimentary registration to our upcoming Annual Conference in New Orleans, May 10-13, 2017, was awarded to Tori Harvey, who recruited a whopping 22 new members!
The following members won $100 in AAACN credit for recruiting 3 or more new members: Karen Bayer, Wanda Gordon, Jessica Huffman, Anne Jessie, Nancy May, Mary Morin, and Rebecca Sienko
A 2-Year Membership Extension was awarded to member Maria Hamakiotis in the year-end drawing.