Join the Pediatric SIG
The Pediatric Special Interest Group, as a designated group within the American Academy of Ambulatory Care Nursing, identifies Ambulatory Pediatric Nursing as a key specialty within the AAACN.
The group's purpose is to support and promote networking opportunities for members who have a shared interest in Pediatric Nursing.

Looking for a Pediatric SIG event in your area?
Check out the Events page in the "Special Interest Groups (SIG)" tab.
Pediatric SIG Connected Community

Each SIG has its own Connected Community for all your networking needs.
To visit the Connected Community and/or join SIGs:
Log in as a AAACN member.
On the All Communities page, you will see all SIGs are you already part of, and options to join any SIGs you are not currently part of.
Click on your SIG(s) Communities to visit, or click "Join Community" on the right side of the page, select your email digest preference, and you're set!
Members of AAACN may join as many SIGs as desired. Join the conversation today!
If you have any difficulty getting into the community, please contact aaacn@aaacn.org for assistance.
Who We Are
We are working hard to grow membership in AAACN and our SIG. If you know a great pediatric nurse, encourage him or her to join with our Member-Get-a-Member campaign!
How many PED SIG members are in YOUR state? You may also download the map!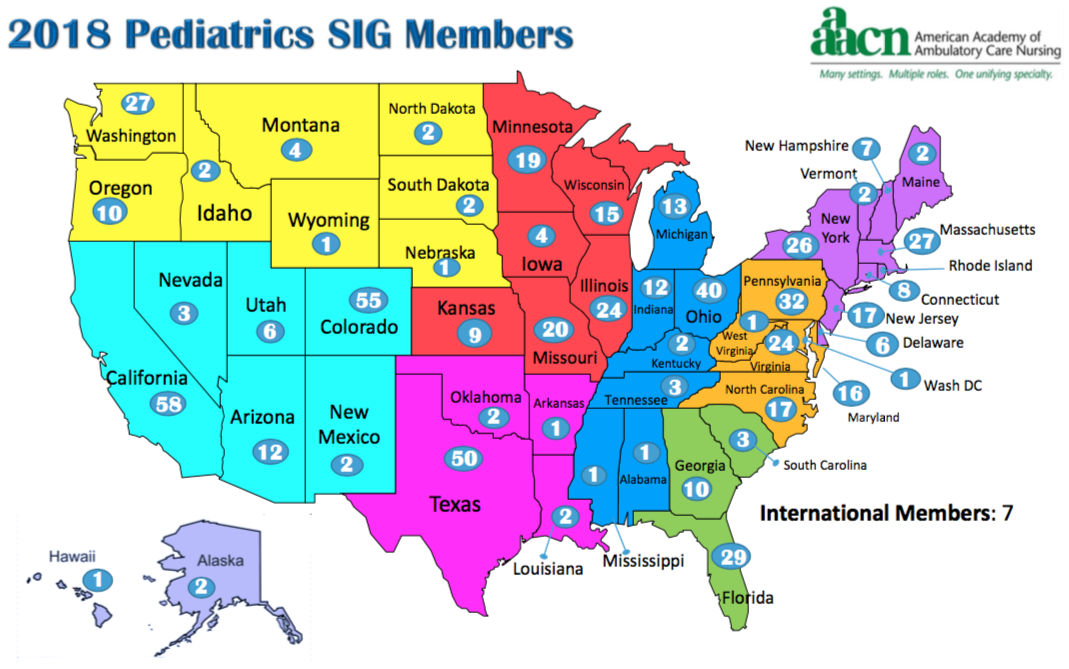 Meetings
Goals
Serve as a voice for Pediatric Nursing within the organization.
Provide a forum to enable members to build collaborative relationships with each other.
Provide opportunities to work together on Pediatric initiatives.
Maintain a current member database of available Pediatric resources.
Members are always welcome to post a question at any time, as we strive to share best practice and great ideas. We hope you will join us in our journey to develop and support ambulatory leaders.
Welcoming New Members of the Pediatric Special Interest Group
September 2019:

Alyssa Akers-Nowicki
Stacie Banister
Jamie Black
Valerie Conrad
Katherine Damm
Louise Driggers
Dena Hobbs

Maya Kellum
Sarahanne Kevelin
Caroline Matula
Krystina Ralph
Ebony Smith
Lennaya Smith
Erica St Michell
SIG Leadership
Chair
Chair-Elect
Past Chair
Board Liaison
Kathleen Martinez, MSN, RN, CPN