The Tri-Service Military Special Interest Group (SIG) is a dynamic, diverse group of military and government nurses.
The Tri-Service SIG has been active for over 26 years. Its members have a variety of clinical backgrounds, including inpatient/outpatient, large, and small facilities.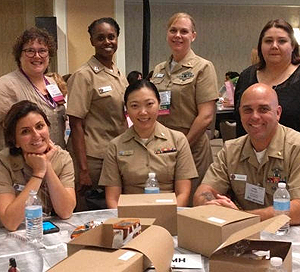 Tri-Service Military SIG members.



Our military services missions provide our nurses with a variety of unique skills. A member from each of the services is selected to represent their corp in SIG leadership.
The Tri-Service Military Special Interest Group is not a separate organization, but a subgroup under membership of AAACN. SIG membership is free, but you must be a member of AAACN to join. Those who participate in conference coordination are encouraged to become members of AAACN, as well as nurses who attend the military pre-conference.
All military nurses, DOD civilians, Veterans Affairs and other uniformed services nurses are invited to attend the annual Tri-Service Military SIG conference event.
We are facing culture changes with our patients and staff as we all move forward and embrace Patient Centered Medical Home model practices. We will continue to share concerns, recommendations, and solutions to implementation that will aid in providing safe quality care in our daily practices.
Read a Tri-Service Military Article in ViewPoint. ViewPoint, the official publication of the American Academy of Ambulatory Care Nursing (AAACN), is a peer-reviewed, bimonthly publication for nursing professionals.
Each SIG has been added to the Connected Community platform for all of your networking.
Log in with your aaacn.org username & password, locate your Communities under the Communities tab, select the Tri-Service Military Community, & begin participating!
Members network via communities that provide archiving of discussions, a document library, search feature, digest options, and a customization profile for each member, and is mobile friendly.

Find out more about the AAACN Connected Community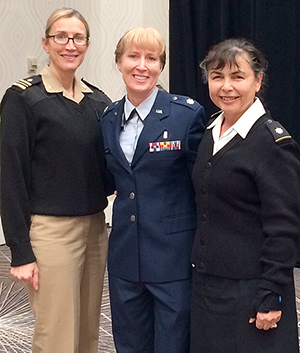 From the 2015 AAACN Annual Conference in
Lake Buena Vista.
Chair
CDR Mary E. Phillips, MSN, RN-BC
mary.e.phillips88.mil@mail.mil
Navy
Chair-Elect
LTC Prentice R. Price, MSN, RN, NEA-BC, FACHE
prentice.r.price.mil@mail.mil
Army
Past Chair
Lt Col Heather D. Coil, MSN, RN-BC, NE-BC
heather.d.coil.mil@mail.mil
Air Force
Treasurer
CAPT Anne M. Brown, MSEd, RN
anne.m.brown.mil@mail.mil
Navy
Board Liaison
Christine Ruygrok, MBA, RN-BC
There are no meetings to report.
AAACN Member Wins Prestigious Award
Join us in congratulating Lt Keith Andrew West, recipient of the American Nurses Credentialing Center's (ANCC) 2018 Board Certified Nurse Award in Ambulatory Care Nursing! View the article.
---
Long-Time AAACN Member Wins Prestigious Award
Congratulations to Nursing Senior (MHS) Navy Capt. Andrea Petrovanie, Naval Medical Center San Diego, who was recently selected as a winner of the Military Health System (MHS) Military Nursing Leadership Excellence Award in the senior category!
As the sole winner from all services at the senior level, this incredible achievement is a testament to Capt. Petrovanie's dedication to leadership, community service, and excellence in nursing. View the article.
---
Special thanks go out to the Tri-Service Military and VA SIGs for their efforts to recruit new members in 2016!
Tri-Service Military SIG: 9 existing members recruited 25 new members.
Recruiting super star CDR David Thomas (Navy) single-handedly recruited 17 new members! He has been largely responsible for restoring military presence at the AAACN Annual Conference over the past several years, organizing the attendance and facilitating memberships of countless nurses from the Army, Navy, and Air Force.
We commend CDR Thomas for his efforts, which were truly above and beyond, and greatly appreciated!
View Tri-Service Military Flyer

Find out more about the Member-Get-a-Member campaign.
AAACN Annual Conferences
AAACN's 42nd Annual Conference in New Orleans was a huge success, as was the Tri-Service Military participation, attendance, and Evening Event. 124 nurses from the Air Force, Army, Navy, and VA attended the Tri-Service Military Evening Forum & Networking Event. Navy nurses accounted for more than half of the military attendees.
The event included 3-mini sessions: Leading the Way in Reforming Health Outcomes, Getting to HRO, and Leveraging Care Coordination in MHP, including a facilitated discussion.
We look forward to the Tri-Service Military SIG's growing membership and continued conference participation!
View the 2017 SIG Tri-Service Military Conference Brochure.
View the photo album of Tri-Service Military SIG members at the 2017 Annual Conference.
For the second year in a row, military nurses attended the conference in large numbers, hosting a separate event, the Tri-Service Military Evening Event, which featured a variety of topics and an expert panel.
AAACN has always been proud to have a group of military nurses in our membership, and we are thrilled to see this level of participation. Military nurses from all branches attended the conference, and are members of AAACN and the Tri-Service Military Special Interest Group (SIG).
The standout group is the Navy nurses, under the direction of CMDR David V. Thomas, who worked with AAACN's National Office to make their attendance possible. In 2016, the Navy was responsible for recruiting 21 new members.
This is a tremendous growth in AAACN membership, as well as the Tri-Service Military SIG. We welcome our new members and look forward to their participation.
Quanda McCahill, an Army nurse and new member, was our 1,000 conference registrant! Quanda received a one-year extension on her membership to celebrate this milestone.
We hope our Military group continues to grow, and we look forward to their continued presence at the conference.
View the 2016 Conference Flyer.
The SIG's participation in the 2015 AAACN Annual Conference in Lake Buena Vista was a huge success. Not only were both the evening forum and the networking session successful; they were inspiring!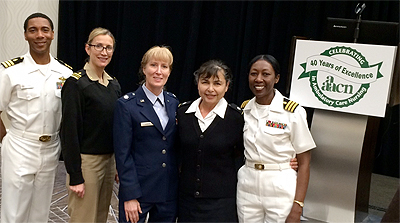 Highlights of the Evening Forum included briefings on Creating a Culture of Safety through Leadership by LT Jenny Paul, NC, USN, Secure Messaging for Chronic Disease Management by LT Bev Torres, NC, USN, and Symbiotic Relationship Between Military Home Port and Navy Readiness by LT Keith West, NC, USN. Altogether, 40 nurses from the Army, Navy, Air Force, and Public Health Service were in attendance; 1.5 contact hours were offered.
Additionally, during the Networking Session, attendees met with the Army, Navy and Air Force Surgeon General's Consultants for Ambulatory Care Nursing and shared nursing initiatives, best practices, transformations, lessons learned, clinical issues of concerns, and plans for implementing innovative solutions to identified clinical concerns.
Attendees also had an opportunity to discuss funding concerns, and explored ways for continued SIG activities and preparation for future conferences.
View the festivities from the 2015 AAACN Annual Conference in Lake Buena Vista:
Photo Gallery from the 2015 Conference