The Veterans Affairs SIG provides a forum for VA ambulatory care nurses to discuss problems, share solutions and creative programs; and keep in touch across the country.

Join the Veterans Affairs SIG

Each SIG has its own Connected Community for all your networking needs.
To visit the Connected Community and/or join SIGs:
Log in as a AAACN member.
On the All Communities page, you will see all SIGs are you already part of, and options to join any SIGs you are not currently part of.
Click on your SIG(s) Communities to visit, or click "Join Community" on the right side of the page, select your email digest preference, and you're set!
Members of AAACN may join as many SIGs as desired. Join the conversation today!
If you have any difficulty getting into the community, please contact aaacn@aaacn.org for assistance.
How many VA SIG members are in YOUR state? "I find the VA SIG very helpful," one VA SIG member said. "I greatly appreciate the work current leadership is doing..."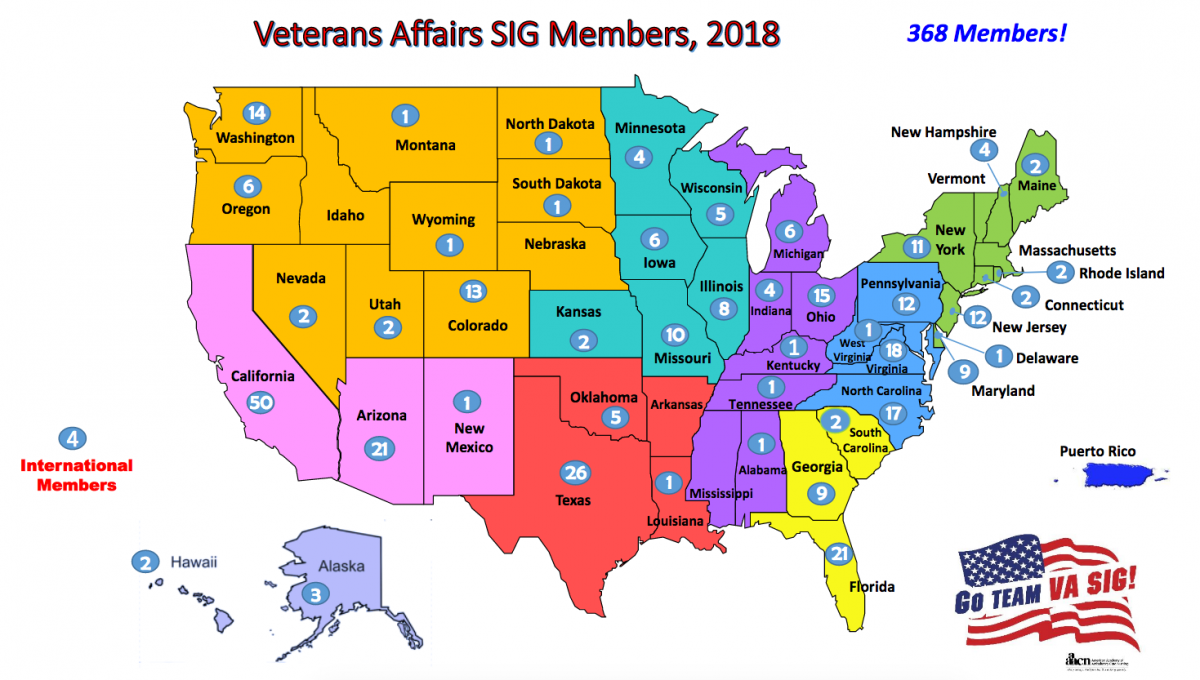 To promote AAACN initiatives related to Standards of Care and Practice
To provide the opportunity to enhance collaborative relationships
The VA SIG meets annually at the AAACN Conference. The VA SIG communicates on a periodic basis with its membership via articles in the AAACN ViewPoint publication, as well as via the AAACN Website and VA SIG Community. We also hold regular conference call meetings monthly. See the Meetings and Minutes tab (below) for details.
Best Practices
Poster Presentations and VA SIG Sessions
As a VA SIG member, you may view select post presentations from the most recent Annual Conference. VA posters are signified by an American flag icon .
You may also listen to VA SIG sessions discussed at the most recent Annual Conference.
Since poster presentation access and SIG Sessions are AAACN member benefits, you will be prompted to log into your AAACN member account from the links above (free to AAACN members).
Welcoming New Members of the VA Special Interest Group for September 2019!

Rosemarie Butler
Cindy Christensen
Molly Euler

Karen Pause-Meeks
Heather Sinisterra Haldi
Chair
Amy Fulwood, MSN, RN-BC, VHA-CM
Chair-Elect
Laila G. Navarro, BSN, RN-BC, VHA-CM
Past Chairs
Katherine Andersen, MSN, RN-BC, CCM
Mary Kate Sweeney, MSN, RN
Board Liaison
Deena Gilland, MSN, RN, OCN, NEA-BC
---
All AAACN members who wish to network with other nurses caring for our veterans are invited to join the VA SIG. Follow the numbered steps below:
Log in to your account (If you are not already logged in)
"My Account"
"Click here to update your profile information";
"Individual Information", > "Edit";
Once in the "Primary Contact Information" area, click the gray "Manage Demographics" button;
In the Special Interest Groups (Pick one or more) area, select the Veterans Affairs.
Note: (To join multiple SIGs, just hold down the control key and click.)
Once you have joined the VA SIG in your AAACN account, within 30 minutes, you will automatically become part of the VA SIG Community and will begin to receive emails in real time. You may update your preferences to receive emails in daily digest, or receive no emails.
For help joining the VA SIG or using the Community, please contact aaacn@aaacn.org.
Visit the Community to ask your questions, discuss your concerns, share best practices, access and add to the documents library, request assistance with getting your programs off the ground and running successfully, and more!
We have a wide support base with many different levels of information to assist you. All members are welcome to join the Community, and we look forward to upcoming calls to discuss topics of interest to all VA SIG members.
The Brag Board features various accomplishments of the VA SIG, the VA in general. Do you have something (VA) to brag about, or a photo you just have to share? Email VA SIG Leadership at VASIGVERSION2@gmail.com! We just might post it right here!
---

Click the tab titles directly below to view.
Cynthia Murray, She's at it Again!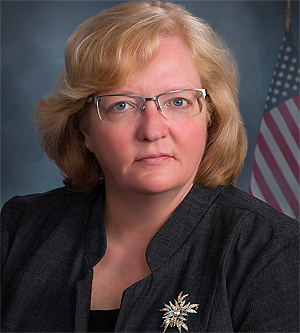 You may remember a recent story about AAACN member, Cynthia Murray, who received an award for advocating for veterans.
Well, she's at it again.
It took 3 years, but Cynthia helped get a bus shelter installed in Northfield, NJ, outside a VA clinic to protect veterans and others from waiting in bad weather.
Read the article!
Cynthia Murray, A Dedicated AAACN Volunteer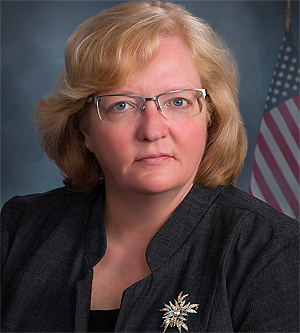 Cynthia Murray, a dedicated AAACN volunteer, recently received the Chapel of Four Chaplains Legion of Honor Award for her lifelong dedication to veterans.
Murray, who is a nurse manager and an advocate for preventing suicides among veterans, said "Humbly, I accept this award on behalf of the families, Veterans, and community stakeholders who have stood by the VA in our shared mission 'to care for him who shall have borne the battle.'"
Read the article!
2019 Clinical Excellence Award Winner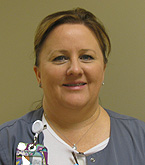 Amy Fulwood, BSN, RN-BC, VHA-CM, from the North Florida South Georgia Veterans Health System, The Villages Outpatient Clinic, is this year's Clinical Excellence Award Winner.
According to colleagues, she exhibits the commendable qualities of initiative, motivation, organizational understanding, leadership ability, communication skills, commitment, problem-solving, and integrity. Congratulations, Amy!
Read the News Item about her success!
Longtime AAACN Member Honored
The United States Congress recently recognized longtime AAACN member, Cynthia Murray, by flying an American flag over the US capitol in her honor.
Murray was honored for her service to the veterans of southern NJ, advocating for the expansion of local access to quality medical and behavioral health care, decreasing travel burden, and increasing timelines of care received. She has also been a strong advocate in the prevention of veteran suicide.