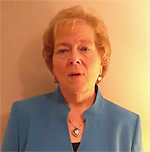 In this video, former AAACN
President Susan M. Paschke
discusses the awards, grants
and scholarships available to
the members of AAACN.
AAACN scholarships and awards are funded through the Silent Auction held at the annual conference, and through private donations. Scholarships and awards are presented at the annual conference to nurses who have been members of AAACN for a minimum of two continuous years at the time of the application.
Students applying for the Nursing Student Conference Scholarship do not need to be a member of AAACN but must be recommended by a AAACN member.
The American Academy of Ambulatory Care Nursing (AAACN) supports the advancement of ambulatory nurses and nursing practice through the provision of excellence, scholarship, and/or research awards to qualified applicants.

View the scholarships and awards recipients.
---
You may apply for a AAACN Scholarship and/or Award any time of the year!
All applications for the AAACN Scholarships and Awards must be submitted via the online forms by November 16 annually. Each scholarship and/or award has their own individual form for ease of use.
You may apply for more than one award or scholarship (if you meet the requirements), but only one will be awarded.
Applications received after November 15 will be considered for the following year. The dates are as follows:

2019 application submission time-period: December 4, 2018 through November 15, 2019 (OPEN).
2020 application submission time-period: November 16, 2019 through November 15, 2020
Note: the application submission time-period for 2017-2018 submissions were extended (November 16, 2017 through December 3 2018), thus changing the time-period for that year only. November 15 is the annual submisison date.
Applications receive a blind review by the members of the Nominating Committee. All applicants will be notified of the committee's selections once the scholarship/award recipients are determined. Scholarships and awards are granted annually at the annual conference.
Browse the scholarships and awards below and read eligibility criteria and all the information you need to apply. Take advantage of this member benefit by submitting for one of these awards! It's easy!
Available AAACN Scholarships and Awards:
Scholarships
Awards