AAACN Ambulatory RN Residency Taskforce White Paper
Introduction to the White Paper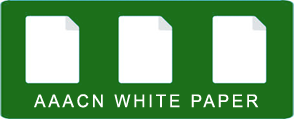 Changes are needed to ensure an adequate and skilled ambulatory nursing workforce. Preparing for new nursing clinical and leadership roles and the hiring of new graduates requires a focus on professionalizing orientation with a competency based approach that demonstrates outcomes linked to professional practice. Nurse Residency programs are seen as the required bridge between education and practice and the transition into a new specialty.
This AAACN White Paper outlines the need for a formalized competency based nurse residency program for all nurses new to ambulatory practice. It outlines the need, discusses the national perspective, provides insight into both acute care and ambulatory residency programs and explores a variety of solutions to ensure an ambulatory workforce that is capable of leading change and advancing health.
Who will Benefit from Reading this White Paper?
This paper is written for all registered nurses practicing in an ambulatory environment: nursing staff, educators in service and academia, managers and administrators.
How I can Use this White Paper
The content in this white paper can be used to:
Provide a deeper understanding of why ambulatory nurse leaders must institute more structure and rigor within our transition programs for any RN new to ambulatory practice.
Understand differences between orientation and a residency program.
Understand the components of a comprehensive registered nurse residency program.
Identify resources to initiate internal processes to develop a program.
Reflect on how to bring more new graduates into ambulatory practice.
June Levine MSN BSN RN
Chairperson – AAACN Ambulatory Nursing Taskforce
---
White Papers from External Sources
AAACN understands white papers from other sources may be of value to our members and colleagues. Therefore, we are providing links to white papers produced by external sources other than AAACN for your benefit.