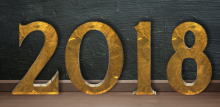 AAACN is booming! We now have a record-breaking 4,297 members, climbing over 4,000 for the first time.
We hope to grow even more in 2018 and look forward to helping you make the most of your membership benefits in 2018.
If you want to get even more out of your membership, there are many opportunities to get involved:
RESOLVE TO VOLUNTEER

[2]

– Many new projects and initiatives are on the horizon, so watch for upcoming calls for volunteers. Volunteering in AAACN is a great way to grow professionally while helping to advance ambulatory care nursing.
 
COMMIT TO ATTEND THE CONFERENCE

[3]

– Ambulatory care, care coordination, and telehealth nurses from around the country will gather May 9-12, 2018, to attend the AAACN Annual Conference in Lake Buena Vista, FL. Don't miss this opportunity to learn, network, and collaborate.
 
UPDATE YOUR RESOURCES

[4]

– Watch for updated editions of several resources in 2018.