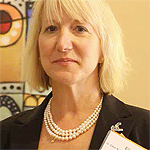 A member shares her
experiences in AAACN [2].
The American Academy of Ambulatory Care Nursing (AAACN) is the association of professional nurses and associates who identify ambulatory care practice as essential to the continuum of high quality, cost-effective health care.
The mission of the Academy is to advance the art and science of ambulatory care nursing.
Who belongs to AAACN?
Ambulatory care nurses (including RNs, LPNs, LVNs), administrators, clinicians, directors, managers, nurse practitioners, and clinical nurse specialists
Community health nurses, educators
Physician group practice and office nurses
Public health and public sector nurses
Hospital-based clinic nurses
Parish nurses
Research nurses
Military nurses

Occupational health nurses
Nurse educators
Nurse consultants
Nurses who work in: Veterans Administration outpatient settings, Corrections, Diagnostic Centers, Ambulatory Surgery Centers, Call Centers or Telehealth, Emergency Departments, Urgent Care Centers, Behavioral Health, and Pharmaceutical Sales
Student nurses
Hospital nurses transitioning to ambulatory care
Non-nurse ambulatory care managers, administrators, and other professionals
Current membership types, fees, and privileges
Active (RN/ADN) $130 - Active Members shall be registered nurses involved or interested in ambulatory care nursing. Active Members have the right and privilege to pay dues; express opinions about organizational programs, decisions made and actions taken; make nominations for officer elections; vote; hold office; and serve on committees as chairpersons or members.
Affiliate $105 - Affiliate Members shall be those persons with a professional interest in ambulatory care nursing. They will pay dues and may serve on committees but they shall neither hold elected office nor vote.
Corporate Member $1500 - Corporations or foundations interested in the mission of AAACN. Membership shall be upon invitation. Corporate Members may serve as members of committees. View

[7]

information on Corporate Membership.
Group Membership Discounted Rates - AAACN's Group Membership

[8]

Program can help facilities enhance the professional development of their ambulatory care and telehealth nurses in a cost-effective way. Facilities who enroll and pay for the dues for a group of nurses (25 or more) receive a discount off each membership based on how many nurses are enrolled. The more nurses enrolled, the higher the discount.
LPN/LVN $105 - LPN/LVNs are also invited to be members. They will pay dues and may serve on committees but they shall neither hold elected office nor vote.
Senior $70 - Members who have reached the age of sixty-two (62) years and have been Active Members for three (3) years prior to reaching 62. Senior members have all rights and privileges of Active Members and shall pay dues at reduced rates.
Student $70 - Individuals who are enrolled in a professional college or school of nursing, are studying toward initial licensure as a registered nurse, have a special interest in ambulatory care nursing, subscribe to the purposes of AAACN, and abide by AAACN bylaws and policies. Student Members shall have a voice about AAACN business and actions but no vote and may serve as committee members. Student Members shall pay dues at reduced rates.
---
AAACN MEMBER TESTIMONIAL
"I have been a proud member of AAACN since 1982. And over these years I have valued the outstanding communication and standards of excellence developed for Ambulatory Nursing Practice. Unfortunately, I have not been able to attend the conferences for a number of years, but I keep current with the status of the organization and all the wonderful correspondence that is sent. Hopefully, I will come to a conference soon!"
Diane M. Rubeo, MSN, RN, EMBA
Branford, CT