The AAACN Online Library [2] is your one stop for all your education needs. In one location, you can complete CNE activities from recent AAACN Conferences [3] and ViewPoint [4]publication, and print your certificates or transcripts.
---
Conference Education
If you missed one of AAACN's recent conferences or didn't get to attend all of the sessions you were interested in, you are in luck! The AAACN Online Library [2] offers you the opportunity to purchase individual sessions or an entire conference.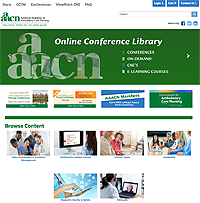 [2]
You can view sessions online or download the slides and MP3 files. You can even watch a session preview, making it easy to confirm the sessions you are interested in! You can also view our most recent Conference sessions in the AAACN Online Library [2].
Remember, if you were an attendee at a conference you receive FREE access to all of the content!
Conference Packages from the Online Library:
Hot List from the 2017 Conference

[5]

- Are you an Ambulatory Care Nurse that did not have time to attend the 42nd Annual Conference? Here is an opportunity to grow professionally by completing online continuing education specific to the practice of Ambulatory Care Nursing. This selection of recorded concurrent sessions from the 2017 conference includes five popular topics that had both high attendance and received solid session evaluations from participants. They cover diverse topics including quality and care coordination transition management (CCTM).
Topic Focused Packages

[6]
Helpful Information
---
ViewPoint Publication
AAACN is pleased to announce that continuing nursing education (CNE) credit from ViewPoint articles are FREE to members. Non-members may purchase the articles and CNE from the AAACN Online Library [2].
---
Archived Webinars