The American Academy of Ambulatory Care Nursing (AAACN) 42nd Annual Conference.
In 2017, join us for our 42nd Annual Conference on May 10-13, 2017, New Orleans Marriott, New Orleans, LA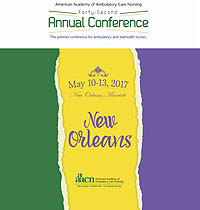 AAACN will be repeating its stay at the New Orleans Marriott located on Canal Street in the French Quarter when we hold our 2017 conference in The Big Easy! Room Rates $185. Plan to join us for another fantastic education event.
Visit the online AAACN Abstract Management System to register and submit your abstract for review.
Download the following conference information:
If you would like to be notified by email when registration is available, please leave us your email.