FREE CNE from ViewPoint Articles for Members
Continuing nursing education (CNE) credit from ViewPoint articles is FREE to members. Free CNE credit is available for members beginning with the January 2009 issue of ViewPoint.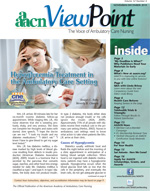 Instructions to complete a CNE Online Evaluation online are as follows:
Log in using your AAACN primary email address and the password you use to log into the AAACN Website.