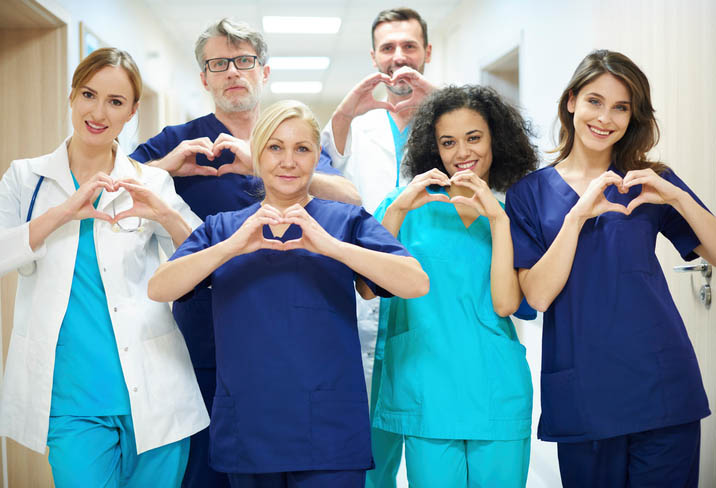 Nurses Make a Difference
Lifesaving skills. Courage. Compassion.
We've always known what drives you: Your desire to help others. To provide top-quality patient care. To ensure care is aligned across the continuum. To heal, teach, learn, reassure, and comfort.
This year's National Nurses Week was initially extended to a monthlong celebration for the 2020 Year of the Nurse and Midwife. Then nurses rose up across the globe to meet the incredible challenges of the COVID-19 pandemic. The world is seeing what we knew all along: Nurses are extraordinary.
Although you are being asked to give your all during these times, what AAACN won't forget is that you're human; you need to care for yourself, and sometimes you need others to care for you.
We pledge more than ever to continue our support by connecting you with other nurses in our AAACN community who listen and validate you. We're also refocusing the resources and education we offer to meet your needs in a changed world. We're here for you.
Thank you for all you do and stay safe.

~ The AAACN Board of Directors
---

Nurses Month Special – It's On Us!
Access free sessions and resources on diverse ambulatory care nursing topics to boost your knowledge and fuel your practice.
This Free CNE package is available at no cost to all.
During this time of global crisis, AAACN would like to contribute to nursing continuing professional development by offering free sessions and resources that bring insight to the diverse focus of ambulatory care and the respective nurses who practice within this field.
AAACN is offering free access and free CNE for a bundle of education in the AAACN Online Library.
Topics include:
Telephone Triage and COVID-19
Telephone Advice Skills: How to Empower Patients
Workplace Resilience
Leadership and Resiliency
CCTM: Coaching and Counseling of Patients and Families
Note: This package is available to AAACN members and nonmembers, so please feel free to share with your colleagues. You will be prompted to log in to the AAACN Online Library to access this offer. If you do not have an account, you will be prompted to create one at no charge.
---
Four Weeks, Four Themes
The American Nurses Association (ANA) has presented four themes during May to spotlight your work and immense contributions. ANA also outlines ideas on how you can tell your stories and engage your communities.
Week 1 (May 1-9): Self-Care
Week 2 (May 10-16): Recognition
Week 3 (May 17-23): Professional Development
Week 4 (May 24-31) Community Engagement