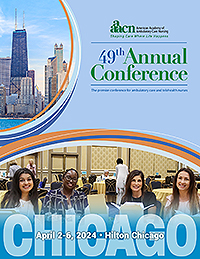 2024 Annual Conference
April 2-6, 2024
Hilton Chicago Chicago, IL
Poster abstract submissions are now being accepted for the 2024 AAACN Annual Conference.
Poster abstracts are due November 15, 2023;

View the poster abstract submission guidelines.
Submission Guidelines
Abstract is limited to 500 words, excluding the title. The abstract should contain a description of the project or subject matter as well as a learning outcome. If presenting a research/EBP project, please include the methodology, analysis, and results. All references to names and organizations within the body text should be removed that could identify the authors/investigators.
Level of Presentation
Advanced beginner: Primary focus is on the individual patient and family. Uses
decision trees, algorithms, protocols, and evidence-based practice guidelines.
Principles, based on experiences, begin to be formulated to guide actions.

Proficient: More holistic understanding improves decision-making. Able to critically
think based on experiences. Advocates for patient and family

Expert: Has intuitive grasp of clinical situation. Performance is fluid, flexible, and highly
proficient. Incorporates evidence-based resources and nursing research into daily plan
of care
Conference Tracks
Care coordination and transition management: Provides information for nurses who
coordinate care and manage transitions of patients among levels of care, providers, and
settings.

Clinical: Tools and strategies for providing or leading care for varied populations in the
ambulatory care setting.

Leadership: Emerging models of leadership, ways to influence outcomes and quality, and experiences integrating new models of care within the fiscally challenged environment to include the changing managed care arena.

Research: Provides information to build skills to conduct research or disseminate a recent research project with a focus on ambulatory nursing care in any ambulatory care setting with implications for practice.

Telehealth: Uses the nursing process to provide nursing care and access to health care
for individual patients or patient populations using telecommunication technologies.
---
Poster abstracts are due November 15, 2023;         
View

the poster abstract submission guidelines.