You Voted and the Election Results are In!
In early November, each member received an email (with a unique username and password to ensure confidentiality) from Survey & Ballot Systems, who managed AAACN's ballot.
Please join us in congratulating our newly elected leaders!
Director Winners (2)
The Board of Directors oversee the business and fiscal management of AAACN. They also provide strategic direction and active leadership for AAACN, reviewing articles, writing charters, performing liaison duties, and participating in conference calls, discussions, and decision-making.
Andrea Petrovanie-Green, MSN, RN-BC
Rachel Start, MSN, RN, NEA-BC
---
Nominating Committee Member Winners (2)
The Nominating Committee identifies experienced members interested in leadership roles. This is a very important job, as strong vetting and careful consideration of our future leaders is essential to AAACN's growth and progress. Other responsibilities include reviewing AAACN awards and scholarship applications and selecting recipients.
Ann Marie Matlock, RN, DNP, NE-BC
Christina Watwood, MHA/MPH, BSN, RN
---
AAACN's Board of Directors has selected Deena Gilland, DNP, RN, NEA-NC, FAAN, as President-Elect for 2021-2022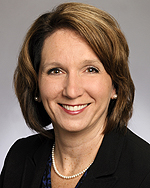 Deena joined AAACN in 2013, and has served on the Board since 2019 as a Director and Treasurer. As a Board Liaison, she has provided guidance to the Program Planning Committee, Nurse-Sensitive Indicator Team, as well as the Leadership and VA SIGs.
Deena co-chaired the Nurse Executive Task Force before joining the Board, and served as a Reviewer of the Scope & Standards of Practice for Professional Ambulatory Care Nursing, 9th Edition. She has also attended 6 conferences, participating as a speaker and a poster presenter.
"There has never been a more important time for nurses in ambulatory care," Gilland said. "Now is the time for ambulatory nurses to show the value they bring to the changing face of healthcare, and AAACN is poised to be the national leader."
We wish her great success as our next President-Elect.
We look forward to the contributions of each of our new leaders!
---
Additional Information
Read more about Board Roles and qualifications of nominating committee members.