The American Academy of Ambulatory Care Nursing (AAACN) Certification Review Course (CRC) will boost your confidence and knowledge as you prepare to take the Ambulatory Care Nursing Certification Exam.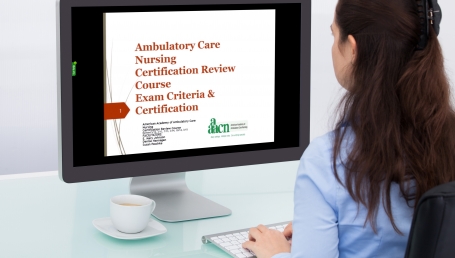 The course provides an overview of the potential content that may be tested on the Ambulatory Care Nursing Certification Exam.
It is a valuable opportunity to reinforce your knowledge of ambulatory care, identify your weak areas, and learn new information. All topics are offered in an interactive, case problem-solving style to enhance critical thinking.
Course content is based on the Test Content Outline for the Ambulatory Care Nursing Certification Exam.
This course does NOT grant certification in ambulatory care nursing.
AAACN offers the course in multiple formats to meet your learning needs. Learners may attend a live course at the AAACN Annual Conference or at a host site near you.
---
This educational activity is jointly provided by AAACN and Anthony J Jannetti, Inc. (AJJ).
Anthony J. Jannetti, Inc. is accredited as a provider of nursing continuing professional development by the American Nurses Credentialing Center's Commission on Accreditation.
AAACN is a provider approved by the California Board of Registered Nursing, provider number CEP5366.
AAACN urges all participants to be aware of the CE requirement for re-licensure in the states in which they hold a license. RNs with a California license must retain the CNE certificate for a period of 4 years after the course is completed.
Not a AAACN member? Join today to receive the discounted member price on AAACN study resources.