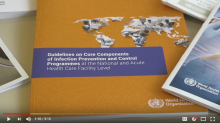 From the WHO: What are the core components for effective infection prevention and control?
This instructional video from the World Health Organization explains the evidence-based core components of infection prevention and control programmes, critical at both the national and acute health care facility level for patient safety and for health systems to provide quality care.
This video is brought to life by interviews from people in the field across a range of countries and describes the importance of the eight core components one by one.
---

About Health Bytes
AAACN Heath Bytes is an informative and helpful listing of hot topics, awareness, and articles that may make your life easier and more enjoyable. The Health Bytes appears in the monthly email newsletter and will also be posted on the AAACN Website.