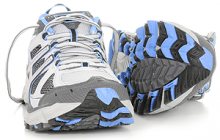 In 2017, ANA's yearly theme will be devoted to improving the health of nurses and they will be launching the Healthy Nurse, Healthy Nation™ Grand Challenge.
ANA is committed to helping nurses live their healthiest lives with its first annual #Fitnursefriday5K. #Fitnursefriday5K is a virtual social media event that is designed to encourage nurses to participate in local 5Ks. It links nurses and non-nurses around the country in a friendly competition to see who can inspire the greatest number of folks to get out and exercise.
The kick-off event of #Fitnursefriday5K is Thanksgiving weekend (Nov 24-27). By leveraging participation in the popular "Turkey Trots" going on that weekend in many cities, as well as encouraging RNs to go run their own 5K, #Fitnursefriday5K will provide a platform for fitness and fun. ANA will develop a nationwide reporting tool that will allow participants to easily record their 5K participation.
So whether you jog, run, or walk, take steps toward better health for you and your patients. Learn more and sign up today.
---

About Health Bytes
AAACN Heath Bytes is an informative and helpful listing of hot topics, awareness, and articles that may make your life easier and more enjoyable. The Health Bytes appears in the monthly email newsletter and will also be posted on the AAACN Website.