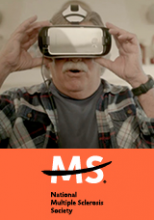 Let's inspire each other by sharing breakthroughs that will change the world for people with MS!
What is MS?
Multiple sclerosis is an unpredictable, often disabling disease of the central nervous system. Symptoms range from numbness and tingling to blindness and paralysis.
The progress, severity, and specific symptoms of MS in any one person cannot yet be predicted, but advances in research and treatment are moving us closer to a world free of MS.
---

About Health Bytes
AAACN Heath Bytes is an informative and helpful listing of hot topics, awareness, and articles that may make your life easier and more enjoyable. The Health Bytes appears in the monthly email newsletter and will also be posted on the AAACN Website.