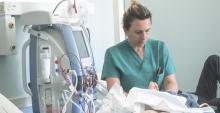 (From the AAACN Career Center) Nursing is an interesting profession.
One day you leave work, feeling on top of the world, happy to have helped so many people in a shift.
The next you find yourself crying on your way home, sick over things that have saddened or irritated you during the day. I would go as far to say that some nurses have a love-hate relationship with nursing.
What can nurses do to beat burnout, enjoy being a nurse again and reconnect with their passion for the nursing profession?
Tap into the nurse within!
---

About Health Bytes
AAACN Heath Bytes is an informative and helpful listing of hot topics, awareness, and articles that may make your life easier and more enjoyable. The Health Bytes appears in the monthly email newsletter and will also be posted on the AAACN Website.