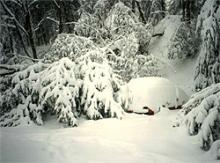 Preparation Helps Nurses Care for Patients in Disasters.
This article is about flooding, but a crippling Winter nor'easter blizzard requires is a frozen and snow storm preparedness so healthcare providers can ensure their own safety and that of their patients. Read this informative article in NurseZone.
Also, see the Winter Weather Checklist from the CDC to pass on to your patients.
---

About Health Bytes
AAACN Heath Bytes is an informative and helpful listing of hot topics, awareness, and articles that may make your life easier and more enjoyable. The Health Bytes appears in the monthly email newsletter and will also be posted on the AAACN Website.