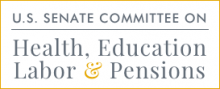 On Tuesday, May 22, 2018, starting at 10 am ET, the Senate Health, Education, Labor, and Pensions Committee will host a hearing on the Health Care Workforce: Addressing Shortages and Improving Care.
They will discuss the Title VII and Title VIII reauthorizations bills under consideration.
Dr. Julie Sanford, Director and Professor, School of Nursing at James Madison University will be providing testimony and share specific examples that demonstrate the impact of Title VIII in the community.
This is an exciting step for the Coalition's collective advocacy to move the needle forward!
Watch the hearing live on Tuesday, May 22, 2018, starting at 10 am ET!
---

About Health Bytes
AAACN Heath Bytes is an informative and helpful listing of hot topics, awareness, and articles that may make your life easier and more enjoyable. The Health Bytes appears in the monthly email newsletter and will also be posted on the AAACN Website.