Join the Patient/Staff Education SIG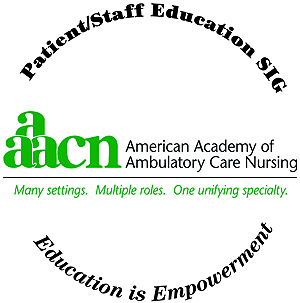 In November 2013, the Patient Education and Staff Education Special Interest Groups (SIGs) became one SIG called the Patient/Staff Education SIG. The leaders and members of the two SIGs concluded that a merger would enhance the existing work being done by both groups and provide a forum for sharing all Educational material.
The SIG provides forums for leadership development and mentoring for ambulatory nurses who are leaders, or for those who aspire to be leaders. Communication with SIG members is done via conference presentations, website, Connected Communities, the SIG provides opportunities to share ideas, policies and procedures, and best practices among ambulatory nursing leaders.
Download the Patient/Staff Education SIG flyer to learn more about the exciting opportunities that this SIG offers!
Goal
Promote excellence in nursing practice through patient and staff education.
Objectives
Support AAACN strategies.
Engage and empower members through collegial relationships with members of the SIG and of AAACN.
Encourage professional development of nurses through continuing education, academic education and professional certification.
Provide resources to improve competency of nurses in Ambulatory Care related to patient and staff education
Mission
To advance the art and science of patient and staff education in the ambulatory care nursing arena.
Vision
We are professional registered nurses and recognized leaders in the patient and staff education ambulatory care environments that will enhance the professional growth and career advancement of its members.

Each SIG has its own Connected Community for all your networking needs.
To visit the Connected Community and/or join SIGs:
Log in as a AAACN member.
On the All Communities page, you will see all SIGs are you already part of, and options to join any SIGs you are not currently part of.
Click on your SIG(s) Communities to visit, or click "Join Community" on the right side of the page, select your email digest preference, and you're set!
Members of AAACN may join as many SIGs as desired. Join the conversation today!
If you have any difficulty getting into the community, please contact aaacn@aaacn.org for assistance.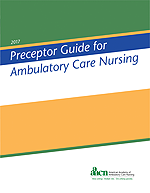 The Preceptor Guide for Ambulatory Care Nursing was developed by the Patient/Staff Education Special Interest Group (SIG) as a resource for developing a Preceptor program in an ambulatory care setting and a tool to help translate the Ambulatory Care Nursing Orientation and Competency Assessment Guide into practice.

View the Table of Contents and Sample Pages
The Guide is available free to AAACN members in the online Store. Note: you must be logged in to your Member account to download the Preceptor Guide for free. If you are not already, you will be prompted to login to your member account.
Members: Download the Preceptor Guide for Ambulatory Care Nursing
---
Non-Member Option:
Non-members may purchase a copy of the Preceptor Guide in the AAACN Store for $24.
Non-members: Purchase the Preceptor Guide for Ambulatory Care Nursing
The SIG developed a Patient Education ToolKit of patient education resources, including a bibliography of patient education books, a guide to consumer health websites, and links to resources for Diabetes, Emergency Preparedness / Bioterrorism, Gastroenterology, Health Literacy, Patient and Family-Centered Care, Pediatric Health.
View the Patient Education ToolKit
Chair
Elizabeth Collins, BSN, RN
elizabeth.collins2@bmcjax.com
Chair-Elect
Trina Roufs, MSN, RN-BC
trina.roufs@providence.org
Past Chair
Pamela G. Sanford, MSN, RN-BC, CNS
pjsanford@earthlink.net
Board Liaison
CMDR Assanatu I. Savage, PhD, DNP, FNP-BC, CDR, NC USN RN-BC