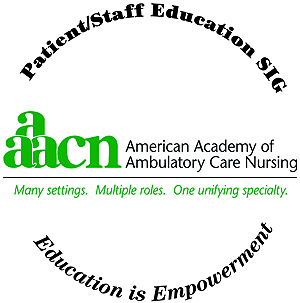 In November 2013, the Patient Education and Staff Education Special Interest Groups (SIGs) became one SIG called the Patient/Staff Education SIG. The leaders and members of the two SIGs concluded that a merger would enhance the existing work being done by both groups and provide a forum for sharing all Educational material.
The SIG provides forums for leadership development and mentoring for ambulatory nurses who are leaders, or for those who aspire to be leaders. Communication with SIG members is done via conference presentations, website, Connected Communities, the SIG provides opportunities to share ideas, policies and procedures, and best practices among ambulatory nursing leaders.
Download the Patient/Staff Education SIG flyer to learn more about the exciting opportunities that this SIG offers!
Goal

Promote excellence in nursing practice through patient and staff education.
Objectives
Support AAACN strategies.
Engage and empower members through collegial relationships with members of the SIG and of AAACN.
Encourage professional development of nurses through continuing education, academic education and professional certification.
Provide resources to improve competency of nurses in Ambulatory Care related to patient and staff education
Mission
To advance the art and science of patient and staff education in the ambulatory care nursing arena.
Vision
We are professional registered nurses and recognized leaders in the patient and staff education ambulatory care environments that will enhance the professional growth and career advancement of its members.