The Staff Patient Education SIG is dedicated to enhancing patient care through education. We promote excellence in nursing practices through initiatives that build an evidenced based pool of knowledge.
Join the Patient/Staff Education SIG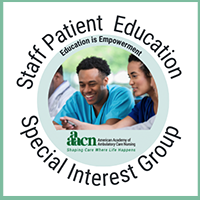 In November 2013, the Staff Education and Patient Education Special Interest Groups (SIGs) merged into the Staff Patient Education SIG to enhance the existing work being done by both groups and provide a forum for sharing all educational material.
We utilize a platform for ambulatory care nurses to connect, share insights and lessons learned to solve issues and stay updated on the latest developments in patient education. Together, we're improving nursing practice and outcomes, one informed patient at a time.
Chair
Linda Brixey, AMB-BC
Chair-Elect
Rhonda Edwards, BSN, RN-BC, CPN
Past Chair
Trina Roufs, MSN, RN-BC
Board Liaison
Andrea Petrovanie-Green, MSN, NC, RN, USN, AMB-BC, CAPT(Ret)
Each SIG has its own Community for all your networking needs, providing archiving of discussions, a document library, a search feature, digest options, customizable profiles, access to fellow SIG members, and more. The Community also adapts to the use of mobile devices. Take advantage of your most valuable membership benefit – convenient access to colleagues in your practice area.
Build Community and Content with your Colleagues - Enter a place for knowledge exchange, content curation, idea incubation, and professional networking.
Join the Discussion - Ask or answer questions with your peers. Our dynamic discussion forums provide the tools you need to communicate with leaders and partners in your field.
Browse the Document Library - Search and find content & media when you need it. Build a knowledge base of industry best practices, sample documents, spreadsheets, pictures, videos, and more.
Join the Patient/Staff Education SIG
To visit the Connected Community and/or join SIGs:
Log in as a AAACN member.
On the All Communities page, you will see all SIGs are you already part of, and options to join any SIGs you are not currently part of.
Click on your SIG(s) Communities to visit, or click "Join Community" on the right side of the page, select your email digest preference, and you're set!
Members of AAACN may join as many SIGs as desired. Join the conversation today!
If you have any difficulty getting into the community, please contact aaacn@aaacn.org(link sends e-mail) for assistance.
Resources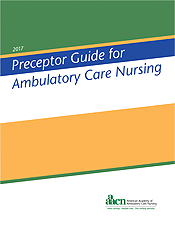 The Preceptor Guide for Ambulatory Care Nursing was developed by the Staff Patient Education Special Interest Group (SIG) as a resource for developing a Preceptor program in an ambulatory care setting and a tool to help translate the Ambulatory Care Nursing Orientation and Competency Assessment Guide into practice. The Guide is available free to AAACN members in the online store. Note: you must be logged in to your Member account to download the Preceptor Guide for free.