Telehealth nursing is an exciting sub-specialty within ambulatory care nursing.
Join the Telehealth Nursing Practice SIG
Telehealth nursing practice uses the nursing process to provide nursing care and access to health care for individual patients or patient populations via phone or other technology, occurring in multiple health care settings.
The American Academy of Ambulatory Care Nursing (AAACN) established the Telehealth Nursing Practice SIG in 1995.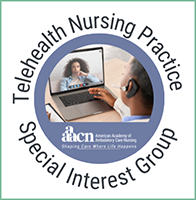 Defined criteria for Telehealth Nursing Practice includes:
Use of clinical algorithms, protocols or guidelines to systematically assess patient needs and symptoms.
Prioritization of the urgency of patient needs.
Collaborative development of the plan of care with the patient and supportive disciplines, which may include recommendations for care, call back instructions, and education.
Outcome evaluation.
Purpose:
Promote Telehealth nursing practice consistent with AAACN TNP standards.
Support continuing education specific to Telehealth nursing practice.
Support a network for Telehealth nurses responding to the changing needs of SIG members.
Develop collegial relationships with other professional nursing organizations.
Support research and publication within the specialty of TNP.
Chair
Scott Teplin, CEN MSN RN-BC
Kim Trost, BSN,RN
Chair-Elect
TBD
Past Chair
Claire Anderson, APRN MSN FNP-BC CHFN
Board Liaison
Eileen Esposito, DNP, RN-BC, CPHQ
Each SIG has its own Community for all your networking needs, providing archiving of discussions, a document library, a search feature, digest options, customizable profiles, access to fellow SIG members, and more. The Community also adapts to the use of mobile devices. Take advantage of your most valuable membership benefit – convenient access to colleagues in your practice area.
Build Community and Content with your Colleagues - Enter a place for knowledge exchange, content curation, idea incubation, and professional networking.
Join the Discussion - Ask or answer questions with your peers. Our dynamic discussion forums provide the tools you need to communicate with leaders and partners in your field.
Browse the Document Library - Search and find content & media when you need it. Build a knowledge base of industry best practices, sample documents, spreadsheets, pictures, videos, and more.
Join the Telehealth Nursing Practice SIG
To visit the Connected Community and/or join SIGs:
Log in as a AAACN member.
On the All Communities page, you will see all SIGs are you already part of, and options to join any SIGs you are not currently part of.
Click on your SIG(s) Communities to visit, or click "Join Community" on the right side of the page, select your email digest preference, and you're set!
Members of AAACN may join as many SIGs as desired. Join the conversation today!
If you have any difficulty getting into the community, please contact AAACN for assistance.