The Preceptor Guide for Ambulatory Care Nursing will help you onboard new staff to your ambulatory care setting.
As a preceptor, you are an experienced nurse who is committed to successfully onboarding new employees in your facility. You serve a critical role in orienting new employees to your organization, policies and procedures, standards of care, your patient population, and the health care team.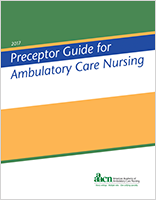 Creating a successful orientation experience involves having the right educational tools and a clear understanding of the clinical, legal, and organizational environment in which new employees function.
The Preceptor Guide for Ambulatory Care Nursing is designed to:
Help you gain insight into the role of a preceptor
Assist in the development of the preceptor program in your ambulatory care setting
Provide tools to help you implement your orientation or preceptor program
The Preceptor Guide is available free to American Academy of Ambulatory Care Nursing (AAACN) members and for purchase to others in the Store.
View Sample Pages and Purchase the Preceptor Guide
The Preceptor Guide is a companion to the Ambulatory Care Nursing Orientation and Competency Assessment Guide.
Note - this publication is a .PDF file digital file. Hard copies will not be shipped. You must download this file after purchasing.