Telehealth Nursing Practice Scope and Standards
The Scope and Standards of Practice for Professional Telehealth Nursing, 6th Edition aligns telehealth nursing with extensive health care environmental and technological transformation.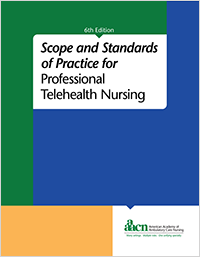 The Scope presents new thinking about telehealth as an integral component of today's health care practice. Inspired by the vision, values and traditions of the past, this edition of the Scope and Standards of Telehealth Nursing reflects current professional norms, practices, and expectation, and recognizes the constantly evolving landscape or professional health systems.
Sixteen Standards are included in the publication with the first six standards addressing the six phases of the nursing process. The remaining ten standards address professional performance in telehealth practice.
Use the Telehealth Nursing Scope and Standards to:
Develop the structures and processes of telehealth nursing including policies, procedures, role descriptions and competencies.
Expand telehealth nursing knowledge, skills, and attitudes.
Expedite the development of telehealth care delivery process models
Evaluate telehealth performance using performance appraisals, peer reviews, and reflective practice.
Stimulate telehealth research and evidence-based practice.
Conduct quality assurance and performance improvement initiatives.
Prepare for the ambulatory care nursing certification exam, which contains questions on telehealth nursing and is the recommended exam to validate telehealth nursing knowledge.
View Sample Pages / Purchase the Telehealth Care Standards
---
The following standards are pertinent to the ambulatory care setting:
---