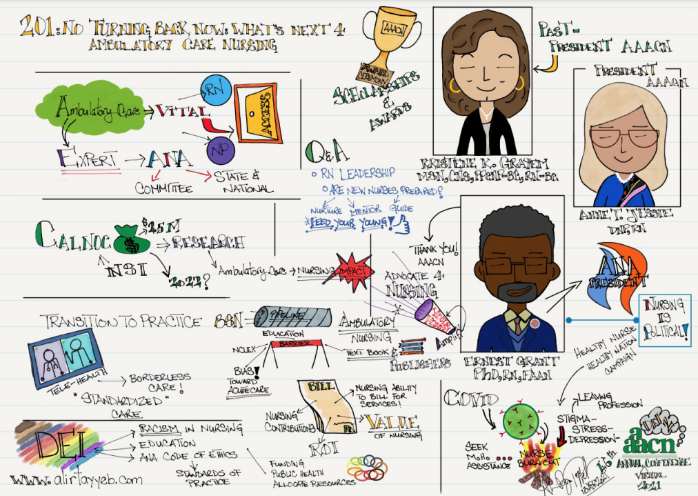 Artwork by Dr. Ali Tayyeb, PhD, RN, NOD-BC, PHN.

"More than 780 nurses learned, laughed, and bonded during the recent AAACN Annual Conference. Thank you all for sharing your knowledge and expertise! There is exciting work happening on so many fronts. Together we are building the science of ambulatory care nursing and advancing our specialty.
We are better together!"

AAACN 2021-2022 President Kathleen Martinez, MSN, RN, CP
Did you miss a session or do you want to watch one again?
All recorded content is now available on the "On-Demand" tab in the Event page.*
Be sure to log in for access to handouts, recorded sessions, and evaluations.
Please complete your overall conference evaluation. Once logged in, visit the Event page and click NCPD/CNE Evaluations in the left navigation. We listen to you and depend on your feedback to guide us forward!
View Conference Recordings Now
*Conference registrants may access the recording of Session 102, Becoming a Champion of Change: Your Checklist for Success in the AAACN Online Library until May 22, 2021.
---