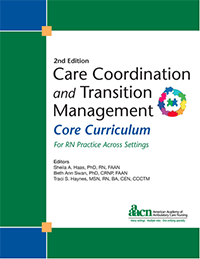 Care Coordination and Transition Management Core Curriculum, 2nd Edition
---
Protecting patients from falling through the cracks in the health care system is one of today's most critical nursing roles. Learn how to confidently lead your team in top-quality care with the latest edition of AAACN's popular CCTM Core. This foundational text leads the industry in CCTM education.
DESCRIPTION
The Care Coordination and Transition Management Core Curriculum, 2nd Edition serves as the foundational reference for CCTM RN practice and an educational resource for undergraduate and graduate nursing students and currently practicing registered nurses in general practice, specialty roles in care coordination and care transitions. Digital access is also available.
Digital access is also available.