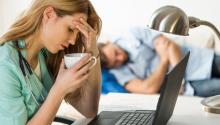 From HEALTH BYTES, & also from the AAACN Career Center
On March 10, 2017, the Accreditation Council for Graduate Medical Education (ACGME) Board approved a requirement that will allow first-year medical resident interns to work up to 28-hour shifts.
Each intern can work a 24-hour shift, then they're granted a four-hour period to inform other doctors and residents about their patients' status.
The approved changes will go into effect July 1 in order to align with the 2017–2018 academic school year in teaching hospitals.
Visit the AAACN Career Center and read the full article     Find Jobs
---

About Health Bytes
AAACN Heath Bytes is an informative and helpful listing of hot topics, awareness, and articles that may make your life easier and more enjoyable. The Health Bytes appears in the monthly email newsletter and will also be posted on the AAACN Website.