The Line that Connects Us

Greenberg (right) with AAACN's former Education Director, Rosemarie Marmion

A profile of telehealth nursing pioneer Liz Greenberg

'Telephone nursing is nursing with a bag over your
head and your hands tied behind your back, yet every call is an opportunity
to validate and support callers and make a positive difference in their day.'

If you meet Liz Greenberg in the lady's room, she'll make you laugh. You'll also notice how tall she is. But she's more than height and humor.

She has that quality that makes you feel happier and more energized than you were 5 minutes ago, before you washed your hands next to her and shared a spontaneous silly joke.
M. Elizabeth Greenberg, PhD, RN-BC, C-TNP, CNE, AAACN's immediate past president, has been an active member of the American Academy of Ambulatory Care Nursing (AAACN) for 20 years.
She will end 6 years of service on the AAACN Board of Directors at AAACN's Annual Conference in Palm Springs, CA, in May. Her leadership will be missed, as the organization, Greenberg's AAACN colleagues, legions of students, and telehealth nurses everywhere, are all the better for having known – and learned - from her.
Greenberg, who plans to remain an active member of AAACN for many years, will also continue to prepare students for their nursing careers as an associate clinical professor at Northern Arizona University (NAU).
In addition to her national leadership roles with AAACN, Greenberg served on the ViewPoint Editorial Board for 12 years. She also led many AAACN task forces and committees over the years, changing the face and practice of telehealth nursing along the way. In fact, the AAACN teleterm workgroup she chaired in 2003 produced definitions of telehealth nursing still used today.
Greenberg's research and scholarship trove is deep and broad, but her passion for nursing and her many awards and nominations as NAU's 'Teacher of the Year' make her a nurses' nurse, a leaders' leader, and a teachers' teacher.
Your career weaves together health care IT, telephone triage, leadership, and teaching. Who are you?
I am a passionate cheerleader and advocate for recognizing and advancing the nursing profession.
This core motivation has guided all my professional pursuits and decisions. For example, although my primary love and expertise are for telephone nursing, after doing a year of reading concentrating on the health needs and experience of veterans returning home, I realized that our veterans were often not being heard, or even being identified as veterans by nurses in civilian outpatient settings. This motivated me to inform, advocate, and encourage nurses via publication and presentation to look at, listen to, and connect with these patients.
How did your nursing career begin?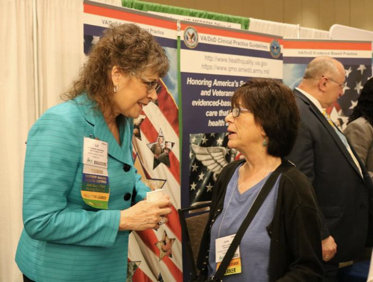 Greenberg chats with a 2018 AAACN Conference attendee in the exhibit hall.
I grew up in Ely, NV, in a rural area without a lot of opportunities. When I was in high school, I first became a candy striper and then a hospital lab technician for a work study. I then worked as a hospital phlebotomist, lab assistant, and ward clerk or unit assistant. A 9-month LPN class was offered in town and seemed to be the next logical step. Soon after that, I moved to Elko, NV, with a couple of classmates to complete an associate degree RN program. Once licensed, I worked in labor and delivery for 12 years and completed a bachelor of science degree in nursing at the University of Arizona in Tucson.
Let's circle back to telephone triage. This has clearly been an area of focus for you. What drew you to it?
I was introduced to the telephone as a recognized tool for nursing care delivery in 1993 when I took a job at an after-hours and weekend outpatient pediatric clinic. I was in charge, and the phone calls were my responsibility.
I really disliked the role and often postponed responding to calls. After a while (and a lot of complaining to my husband about the calls), I realized the majority of calls ended with an expression of thanks, gratitude, and relief. My desire to figure out the value of the call to the parents I spoke with led me to graduate school where I completed my thesis and dissertation on telephone triage.
What I believe is the success of telephone triage, telephone nursing, and actually any nursing, is connection, the ability of the nurse to connect with the patient.
Without the patient-nurse connection, I don't think nursing can be patient-centered. We can't realize the positive patient outcomes that can be achieved and provide individualize care so that it is meaningful. Without that connection, the other important aspects of nursing, such as assessment, support, collaboration, education, decision-making, and partnership, cannot be optimally realized. Outcomes will be compromised if the nurse does not have the time, or the knowledge, attitude, and skill to connect.
What's beautiful about telephone nursing is that it's just the nurse and the patient (and, sometimes, the family) communicating, the essence of nursing.
How did you find AAACN and why did you become a leader?
I was introduced to AAACN in 1999 by my master's thesis advisor and mentor, Dr. Joyce Verran. In 2000, I gave a very well-received talk at the AAACN Annual Conference on the measurable outcomes of telephone triage. It was so clear by the audience interest and enthusiasm that I had found a professional home, a place of shared values, where other nurses were generous, and passionate, and motivated to advance the practice. This has remained true for the last 20 years.
Being a part of AAACN in every role I have taken on has been personally and professionally rewarding and fulfilling.
It's been incredible to be able to see the organization from the strategic vantage point of the Board of Directors and Presidency. So much time, effort, and dedication goes into all leadership roles in the organization. Sometimes, when my responsibilities as a professor and active member of AAACN have seemed overwhelming, it's been the efforts of other members who have gotten me through and kept me going.
AAACN is truly my professional family. When I see new faces at the conference I get excited for our nurses and hope that they get half as much back from AAACN as I have!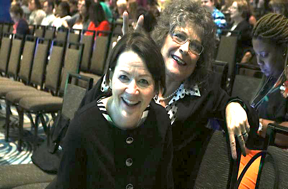 Greenberg clowns around with AAACN President Kathy Mertens at the 2018 Conference in Florida.
My ties to AAACN and our management company Anthony J. Jannetti, Inc., have provided support and opportunities in ambulatory care nursing and telehealth nursing that have allowed me to achieve my professional accomplishments. I am so grateful for that.
It's also wonderful to have witnessed the changes in our organization over time. The growth and influence of AAACN has been tremendous since I joined in 2000, but I still see AAACN as family, a warm, welcoming community where almost anything is possible!
Can you describe a patient story that you'll never forget? How did it affect you?
As a nursing student doing a clinical rotation in a skilled nursing facility, I asked about a woman lying alone in a bed. I was told she was in the late stages of ALS. The staff seemed dismissive of her; they discouraged me from interacting with her because she could not respond.
Despite that, something drew me to her bedside and I sat with her for about 30 minutes. I introduced myself, told her a little about me and talked about the day, the weather, the time of year, and how difficult it must be for her, sometimes just being quiet and holding her hand. I was looking into her eyes much of the time and I was certain we made a connection. When I got up to say goodbye a tear rolled down the side of her face. I know it was a tear of gratitude. I was tremendously humbled, and so grateful I spent that meaningful time with the woman.
I have treated, and as an instructor, encouraged my students to treat all individuals, no matter how "out of it" they may seem, with dignity and respect.
This principle of connection I deduced from this powerful experience later became the cornerstone of my approach as a labor and delivery nurse, pediatric nurse, and as a theorist, researcher, and advocate for telephone nursing. This principle has also been validated in many ways in my practice and in the literature. For a poignant example, I recommend the book Ghost Boy by Martin Pistorius.
What motivates you?
What motivates me is what I hope motivates most of us: To make life better each day for the people we encounter in our personal and professional lives. Whether we encounter a porter, a cashier, a spouse, or a patient, by treating each person with dignity and respect, we make a human connection that enriches both of us.
This is certainly what the nursing profession is all about, and so my work is guided toward helping nursing students and nurses find their voice so that they can fully actualize the potential of nursing to make our patients' lives better in whatever settings we practice.
"What's beautiful about telephone nursing is that it's just the nurse and the patient (and, sometimes, the family) communicating, the essence of nursing."
What would you tell another nurse who was considering working in telehealth?
I could talk about this topic endlessly! That telephone nursing is the essence of nursing practice. Telephone nursing is just you and the patient/caller, and should include connection, communication, and collaboration. It is nursing with a bag over your head and your hands tied behind your back. Every call is an opportunity to validate and support callers and make a positive difference in their day.
Is there anything else you want to share?
I am so proud to have made three major contributions to telephone triage nursing. My master's thesis was one of the first research studies demonstrating the value of telephone triage nursing in terms of cost savings and patient and provider satisfaction. Next, my doctoral dissertation provided a grounded theory, or explanation and description, of the nursing process as it is implemented over the telephone. And finally, together with my BFF, the brilliant telephone nursing educator Carol Rutenberg, we wrote a comprehensive and well-reviewed book, The Art and Science of Telephone Triage: How to Practice Nursing Over the Phone (2012).
These contributions were in many ways successful because of the relationships I've formed through AAACN. And for that, I will always be thankful.
---
From her colleagues
We asked two of Greenberg's many AAACN colleagues to share their thoughts about their friend. Here's what they wrote.
Cynthia Nowicki Hntiuk, EdD, RN, CAE, FAAN
CEO of AAACN from 1995 to 2018

When I think about Liz, many descriptors come to mind...caring, humorous, strategic, enthusiastic, and energetic.  But what impresses me most is her thinking. Her mind must run a mile a minute. She thinks deeply and critically and brings up points that others may miss. And, although Liz may have her thoughts set on something, she is open-minded and easily changes her view once presented with other facts or thoughts that make sense to her.  

AAACN has provided many opportunities for Liz and I to work, learn, and grow together. She is a tireless leader and advocate for ambulatory care nursing and AAACN. I appreciate her as a great partner, leader, and friend."

Carol Rutenberg, MNSc, RN-BC, C-TNP
Telephone Triage Consulting, Inc.

When Liz teaches, she uses a kaleidoscope to illustrate the sometimes unexpected complexity of seemingly simple nursing concepts and tasks and to show how a slight shift in perspective brings other elements into view. However, Liz herself is a beautiful kaleidoscope who brings into focus things that others often miss. She finds joy and humor in the simplest moments and yet she has an unparalleled depth of insight, wisdom, and vision.

Liz has an undying commitment to the values and people she believes in, and her professional contributions are an inspiration to all who know her and her work. She is able to see the best in others and helps them stretch beyond what they thought was possible for themselves. Liz has been my mentor, my colleague, and my friend. Both my professional and personal lives have been enriched immeasurably because of her influence.

Reported by Janet Perrella-D'Alesandro, AAACN communications director and enews managing editor.
April 2019