Dear Ambulatory Care Nurses,
We are dealing with a health care crisis unlike anything we've seen in our lifetime, so I wanted to send you a note of encouragement and support.
While the general population may have the freedom to socially and physically distance themselves, you may not. Your work must continue as you provide quality patient care.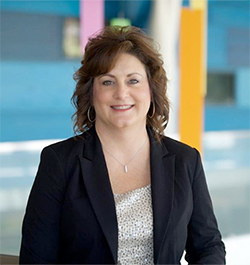 The AAACN Board of Directors and staff want you to know we are thinking of you constantly, wishing you health, safety, strength, and perseverance. We're so thankful for the work you do under normal circumstances, and even more grateful for your incredible leadership during these challenging times.
While you're doing your job, the AAACN National Office staff is working virtually and continuing to collaborate to do all they can to ensure you can access every service, resource, and communication you need.
Now, more than ever, ambulatory care nurses need to maintain a connection to AAACN and to our community. To help make things easier for you right now, we are extending membership benefits so you can focus on caring for patients and continue to access your AAACN member benefits, including the Connected Community, Special Interest Groups (SIGs), AAACN publications, and online members-only resources.
In Connected Community, AAACN's online community, you can connect with fellow ambulatory care nurses who are facing the same challenges as you right now. Members are sharing their experiences setting up drive-through COVID testing sites, orienting staff while practicing social distancing, implementing telehealth protocols during a pandemic, and so much more.Go to the Connected Community now to read and participate in these discussions. If you are not already part of a SIG community, you can join immediately when you log in.
We are also making members-only monthly free CNE sessions available for extended times. Normally, the free CNE session is available for just one month; however, in light of COVID-19 and the extra demands it may have placed on your time, free CNE sessions start this month (March 2020) and will be available to you through the end of the summer. Visit the AAACN Online Library.
AAACN is here for you, now and when this storm calms. Should you have questions or if there are other ways we can help you, please don't hesitate to contact us at aaacn@aaacn.org.
AAACN President Kristene Grayem, MSN, CNS, PPCNP-BC, RN-BC
AAACN Board of Directors
AAACN National Office Staff
---
COVID-19 Resources
During COCA Calls/Webinars, subject matter experts present key emergency preparedness and response topics, followed by meaningful Q&A with participants. Each COCA Call/Webinar will offer the most up to date information and guidance for clinicians. Calls are recorded and available for viewing with slides. Available for viewing on the COCA Website
The American Nurses Foundation is supporting nurses on the front lines of the COVID-19 response. We have launched a national fund for the public to address the emerging needs identified by the American Nurses Association to respond to the health threat to nurses posed by the virus. These include:
Providing direct assistance to nurses in partnership with Nurse's House and other organizations
Ensuring nurses have access to the latest science-based information
Driving the national advocacy focused on nurse and patients
Aiding nurses' mental health and well-being in this unprecedented and long-term stressful environment.
Seed funding in the amount of $1 million has been committed by Johnson & Johnson and they will be launching a campaign to drive Text to Give contributions. This effort is unfolding in terms of needs and contributions and we will keep you posted. We will also share opportunities to be a part of shaping the programs we put in place and making sure monies get to nurses all across the country.
A critical webinar for extraordinary times. Education and recommendations you can trust from leading Nursing Associations, "Be Confident Protecting Yourself and Providing the Best Care to Your Patients during this COVID-19 Pandemic." Attendance is FREE. Registration is required.
A link to this on-demand, 60-minute webinar will be emailed to all registrants early the week of March 30.
The Centers for Medicare & Medicaid Services (CMS) released a comprehensive toolkit on telehealth specific to general practitioners.
CMS has broadened access to Medicare telehealth services so beneficiaries can receive a wider range of services without having to travel to a healthcare facility. CMS is expanding this benefit on a temporary and emergency basis under the 1135 waiver authority and Coronavirus Preparedness and Response Supplemental Appropriations Act. Under this new waiver, Medicare can pay for office, hospital, and other visits furnished via telehealth across the country and including in patient's places of residence starting March 6, 2020.
This toolkit contains electronic links to reliable sources of information on telehealth and telemedicine, which will reduce the amount of time providers spend searching for answers and increase time with patients. Many of these links will help providers learn about the general concept of telehealth, choose telemedicine vendors, initiate a telemedicine program, monitor patients remotely, and develop documentation tools. Additionally, the information will outline temporary virtual services that could be used to treat patients during this specific period of time.