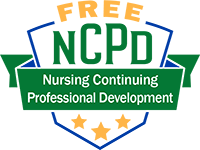 You will now see a change of terminology on educational articles and other learning activities offering contact hours.
The American Nurses Credentialing Center (ANCC) has replaced the term "Continuing Nursing Education" (CNE) with "Nursing Continuing Professional Development" (NCPD). NCPD will designate all educational activities offering contact hours that are jointly provided by Anthony J. Jannetti, Inc. and the American Academy of Ambulatory Care Nursing (AAACN).
Look for the new NCPD logo when seeking educational activities to obtain contact hours.