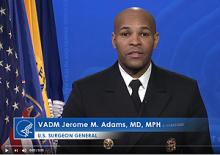 Surgeon General Jerome Adams: Protect Against the Measles
Measles is one of the most contagious of all infectious diseases; approximately 9 out of 10 susceptible persons with close contact to a measles patient will develop measles.
You may have heard about measles in the news recently.
Here's what the U.S. Surgeon General wants you to know so you can protect your family. Watch the video.
---

About Health Bytes
AAACN Heath Bytes is an informative and helpful listing of hot topics, awareness, and articles that may make your life easier and more enjoyable.