If you attended the AAACN Annual Conference in Palm Springs, May 8-11, 2019, you may have seen some amazing illustrations posted on the conference app.
They are the work of Ali R. Tayyeb PhD, RN-BC, PHN, an assistant professor and U.S. Navy Veteran who works at California State University in Los Angeles. View his drawings below.
Dr. Tayyeb found AAACN after he was asked to collaborate on an HRSA grant and develop an undergraduate ambulatory care course. This was his first AAACN Conference.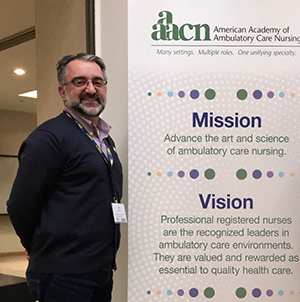 We were so impressed by his drawings, we had to seek him out and learn more! Here's what he said:
How did you become such a talented artist?
I have always loved drawing and painting. I've been doing it since I was a child. I used art as a creative outlet, therapy, and as a way to make learning more fun! I did at one point in my life have a couple of 'coffee shop' art shows while I was stationed at the Naval Medical Center in San Diego.
What did you think of your first AAACN Conference and your nurse colleagues?
As a first-time attendee I didn't know what to expect. However, AAACN put on a very organized, informative, and professional conference. I had the pleasure of meeting many incredible nurses dedicated to ambulatory care and I look forward to future collaborations.
What inspired you to do your drawings?
Doodles help me listen and concentrate on a topic. However, for me to draw and theme my drawing around a topic usually means the topic held my interest, the speaker was engaging, and I found the content relevant to my work and life.
Thank you for sharing your artwork with us. Is there anything else you want to say?
I look forward to the expanding role of the registered nurse in the ambulatory care setting and the outcome measures leading to better patient outcomes in the communities we serve.
---
The title: "Day 3 - Making a Difference"
May 10, 2019

---
The title: "Presidents Address"
May 10, 2019

---

The title: "Transition RN for Rural Veterans"
Session #242, May 9, 2019

---
The title: "Health Coaching"
May 9, 2019

---
The title: "Notes From Our Morning Session"
May 9, 2019

---
The title: "My Notes From Today's Keynote Speaker"
May 9, 2019