The AAACN National Office Staff is Expanding!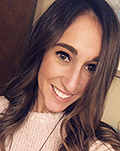 Please welcome Danielle Little, who has joined AAACN as the Manager of Governance and Board Services for AAACN. In this role, Danielle will primarily support all aspects of AAACN Board of Directors operations and assist with strategic plan implementation. Danielle has been with Anthony J. Jannetti, Inc. (AJJ), AAACN's management company, for 5 years in the role of Registration Manager. Danielle received her bachelor's of science degree from Stockton University and lives in Southern New Jersey. She loves to travel, cook, draw, and spend time with her boyfriend and 2-year old golden retriever.

Jennifer Stranix has moved from Director of Association Services into the new role of Director of Membership and Association Services. In this new position, Jennifer will focus on membership engagement and retention and AAACN programs and services and supporting the Special Interest Groups (SIGs).