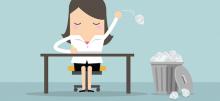 From HEALTH BYTES, & also the AAACN Career Center - The typical hiring manager spends only 10 to 20 seconds reviewing each nurse's resume, and that means that first impressions count.
A LOT.
To keep your resume from landing in the reject pile, avoid these five resume mistakes that turn healthcare employers off.
Visit the AAACN Career Center and read the full article     Find Jobs

About Health Bytes
AAACN Heath Bytes is an informative and helpful listing of hot topics, awareness, and articles that may make your life easier and more enjoyable. The Health Bytes appears in the monthly email newsletter and will also be posted on the AAACN Website.