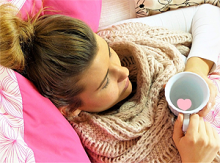 Here Are the Reasons:
The simple act of getting vaccinated helps protect your loved ones.
 
Americans experienced one of the most severe flu seasons in four decades last year with flu activity remaining high well into March 2018.
 
Millions of Americans became sick with the flu, an estimated 900,000 were hospitalized, and 80,000 died from flu and its complications.
 
Experts agree that the flu vaccine is the single best way to protect you and your loved ones against the flu. If you are vaccinated, you are less likely to get the flu.
 
If you do get sick, studies show that when you are vaccinated, your illness will likely be milder, which helps keep you out of the hospital.
 
By getting vaccinated, we can prevent the spread of flu to those at greatest risk for becoming dangerously ill, including young children, pregnant women, people 65 and older, and those with certain medical conditions.
Read the full article from the U.S. Department of Health & Human Services.
---

About Health Bytes
AAACN Heath Bytes is an informative and helpful listing of hot topics, awareness, and articles that may make your life easier and more enjoyable.