The American Academy of Ambulatory Care Nursing has joined an alliance of nursing groups that support The DAISY Foundation, an organization that gives grants and awards to outstanding nurses.
The DAISY Foundation was created in 1999 to thank nurses for their compassionate patient care by the family of Patrick Barnes, a 33 year-old man, who died from the auto-immune disease idiopathic thrombocytopenia. The DAISY acronym signifies Diseases Attacking the Immune System.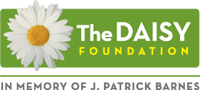 The foundation currently partners with more than 1,300 health care facilities worldwide and is allied with nine major nursing organizations in addition to AAACN. The foundation has received over 150,000 nominations and awarded more than 30,000 DAISY Awards.
As a DAISY "Supportive Association," AAACN helps promote the foundation by getting its message out to ambulatory care nurses via this website, publications, social media pages, and other platforms.
"We are thrilled to have the support of AAACN," said Bonnie Barnes, DAISY's co-founder and president. "Nurses who practice in ambulatory care settings are critical to the health care system. The DAISY Award honors nurses in all settings and AAACN will help us broaden our reach to spotlight nurses who practice outside the hospital."
For more information, visit The DAISY Foundation Website.
About the Award
Award recipients are nominated by their peers, physicians, patients and families, and other staff and administrators to receive:
A certificate held in a leather holder, proclaiming the recipient an "Extraordinary Nurse."
A DAISY Award pin.
A unique, hand-carved serpentine stone sculpture from Zimbabwe, entitled "A Healer's Touch."
A Spotlight page on The DAISY Foundation Website, featuring a photo and telling the story of why the nurse was honored.
Each DAISY Award facility also receives a large celebratory banner that is hung in the recipient's unit for a month, generating very positive conversation about the special role nurses play in patient care.
| | | |
| --- | --- | --- |
| | | |
| Katrina May, BSN | Joseph Montoya, RN | Helen Breshears, LVN |
For more information, visit The DAISY Foundation Website.
Past Award Recipients
View the list of past DAISY award recipients who are ambulatory care nurses (updated July 2014).
Read the Heartwarming Stories of Award Recipients
Kristen Wagner, RN, BSN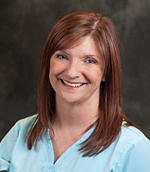 Kristen Wagner, a nurse in the Outpatient Surgery Center and the latest DAISY Award Honoree, is described as the picture that every little girl has when they dream of being a nurse.
Kristen's nominator says she is empathetic, selfless and makes each patient feel special. She recounted a story where Kristen left work early to drive a patient's vehicle home after surgery when the patient was unable to do so.
Kristen later "adopted" the family and helped with chores and errands.
Kristen Wagner, RN, BSN
Floyd Outpatient Surgery Center
Floyd Medical Center
Rome, Georgia
---
Christy Liverman, RN
...Our job in the Emergency Department can be difficult at times but it also can highlight the most compassionate and caring nurses. Christy advocates for her patients and has excellent clinical skills.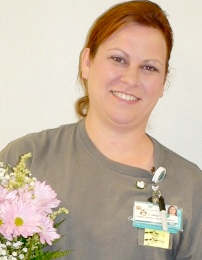 A few weeks ago she had our critical care assignment (2,3 and 4). EMS called in with CPR in progress of an infant. Although the code lasted an hour and the infant was not resuscitated, the care for the family went on for many hours. Christy cried with them, laughed with them and eventually guided them to feel comfortable as they could leaving their deceased child in her care and leaving. This took many hours but Christy remained with the family and coached, guided, educated and mourned with them.
As soon as we cleared the room we got a call of a Motor vehicle accident involving a mother who was pronounced dead at the scene and two young children who were inbound for evaluation. I tried briefly to rearrange the assignment knowing Christy had just been through but she quickly said "no, I will take them both in my room". The children were frightened and had no idea where or what happened to mama but Christy greeted them with a warm smile and joked with them and they quickly warmed up to her and the rest of the staff. We cleared them from any trauma and waited for the search of family to be done by police.
Finally a grandmother and then extended family was located. This turned into another hour of caring for a grieving family-a large family. All throughout Christy was professional and caring. She even thinking ahead that the toddler and school age child would need a new car seat to be sent home, none of which the family had ability to locate or purchase immediately. She notified me, the charge nurse, I called Kathy Mason, our manager, and Kathy went to Walmart and purchased a toddler seat and a booster seat for the children to ride safely in. This the family greatly appreciated.
They were clearly still in shock and appreciated our thinking to try to help care for them, their family and their deceased. Christy finished out her shift with competence, she always gives 100%. Some people would have been crushed after the infant code that started off her shift.
Christy Liverman, RN
E.D.
Carolinas Medical Center-Lincoln
Lincolnton, North Carolina