The American Academy of Ambulatory Care Nursing has joined an alliance of nursing groups that support The DAISY Foundation, an organization that gives grants and awards to outstanding nurses.
The DAISY Foundation was created in 1999 to thank nurses for their compassionate patient care by the family of Patrick Barnes, a 33 year-old man, who died from the auto-immune disease idiopathic thrombocytopenia. The DAISY acronym signifies Diseases Attacking the Immune System.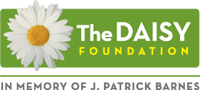 The foundation currently partners with more than 3,000 health care facilities worldwide and over 30 nursing organizations in addition to AAACN which has been a supportive association of DAISY since 2012. We currently partner with  over 3,200 health care facilities and schools of nursing worldwide. Over 1 million nurses have been nominated and over 100,000 nurses have received the award!
As a DAISY "Supportive Association," AAACN helps promote the foundation by getting its message out to ambulatory care nurses via this website, publications, social media pages, and other platforms.
"We are thrilled to have the support of AAACN," said Bonnie Barnes, DAISY's co-founder and president. "Nurses who practice in ambulatory care settings are critical to the health care system. The DAISY Award honors nurses in all settings and AAACN will help us broaden our reach to spotlight nurses who practice outside the hospital."
For more information, visit The DAISY Foundation Website.
ABOUT THE AWARD
Award recipients are nominated by their peers, physicians, patients and families, and other staff and administrators to receive:
A certificate held in a leather holder, proclaiming the recipient an "Extraordinary Nurse."
A DAISY Award pin.
A unique, hand-carved serpentine stone sculpture from Zimbabwe, entitled "A Healer's Touch."
A Spotlight page on The DAISY Foundation Website, featuring a photo and telling the story of why the nurse was honored.
Each DAISY Award facility also receives a large celebratory banner that is hung in the recipient's unit for a month, generating very positive conversation about the special role nurses play in patient care.
Below are just a a few Spotlight DAISY Award recipients. There are so many amazing stories to explore at the The DAISY Foundation Website. Visit also videos of DAISY Award recipients.
There are so many amazing stories to explore at the The DAISY Foundation Website.